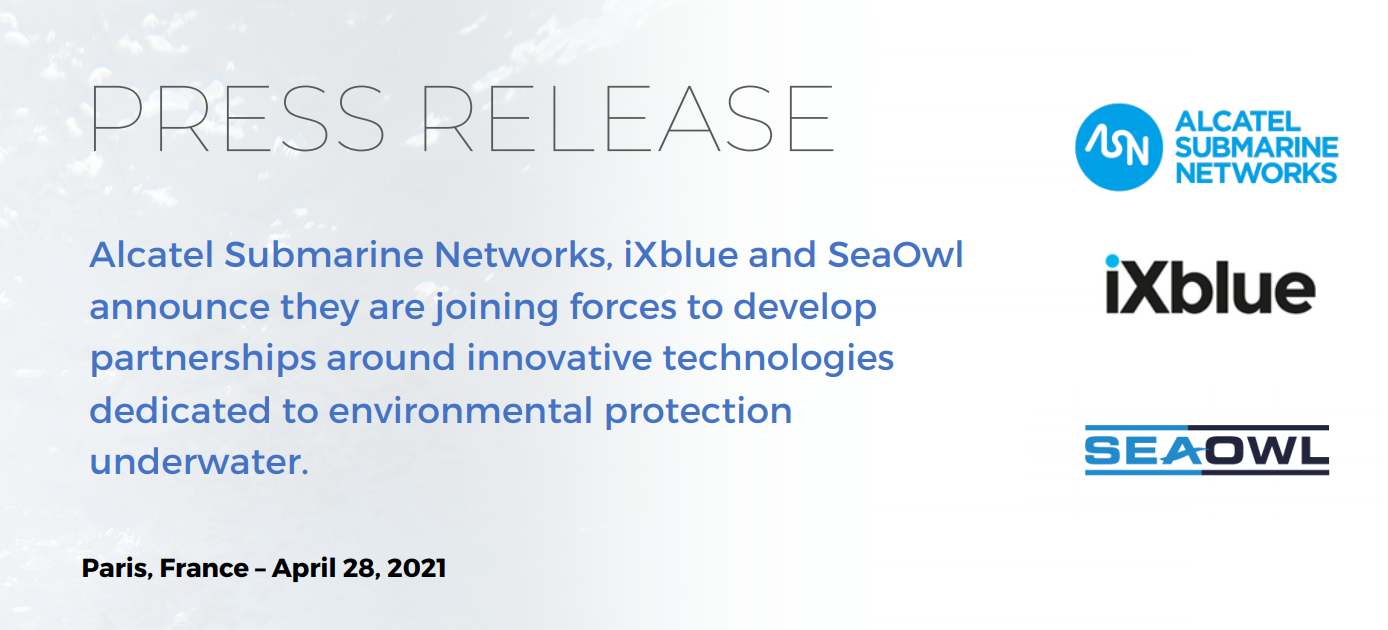 AMSSI – Agora for Maritime and Submarine
Sustainable Innovations
Following several months of fruitful discussions and dialogue, several French players have announced the creation
of the AMSSI (Agora for Maritime & Submarine Sustainable Innovations):
Alcatel Submarine Networks (ASN)

– world leader in the procurement of submarine telecommunication
cable systems

iXblue

– global high-tech company recognized worldwide for its advanced technologies in the fields of
maritime autonomy, inertial navigation, subsea positioning and subsea imagery

SeaOwl

– international maritime services operator, pioneer in the implementation of drone-based
maritime services
These 3 companies are today the core of AMSSI; new French and European members will shortly join them to accelerate the emergence of new innovative projects.
Innovation, R&D and industrial projects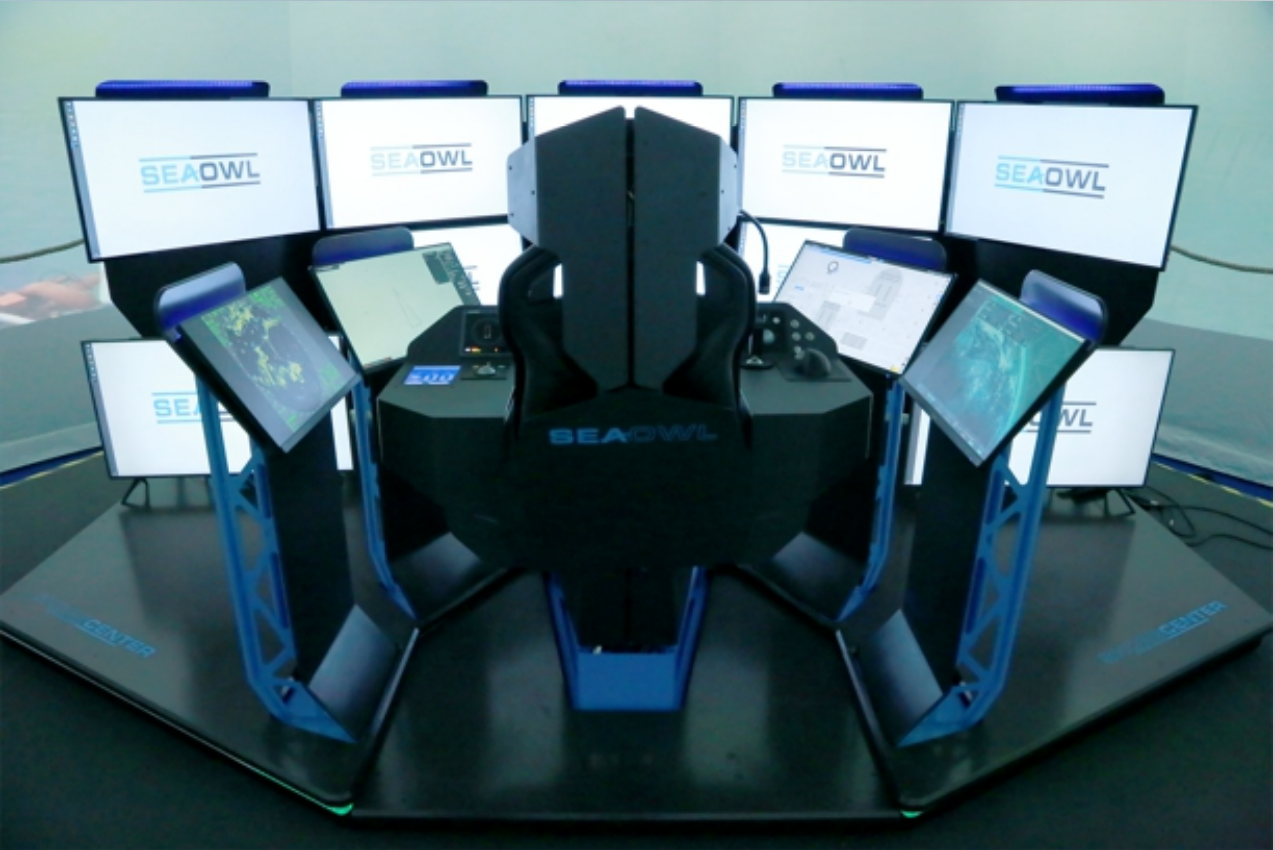 This partnership aims to be a French innovation cluster where members share a desire to combine their know-how and technologies with the objective of bringing to life concrete and innovative industrial projects in the maritime and underwater fields, as well as in the fight against climate change. AMSSI will promote R&D, innovation and French know-how.
AMSSI has a proactive approach towards the concretisation and implementation of the various technologies developed through its members' R&D programmes, leading to the industrial deployment of its projects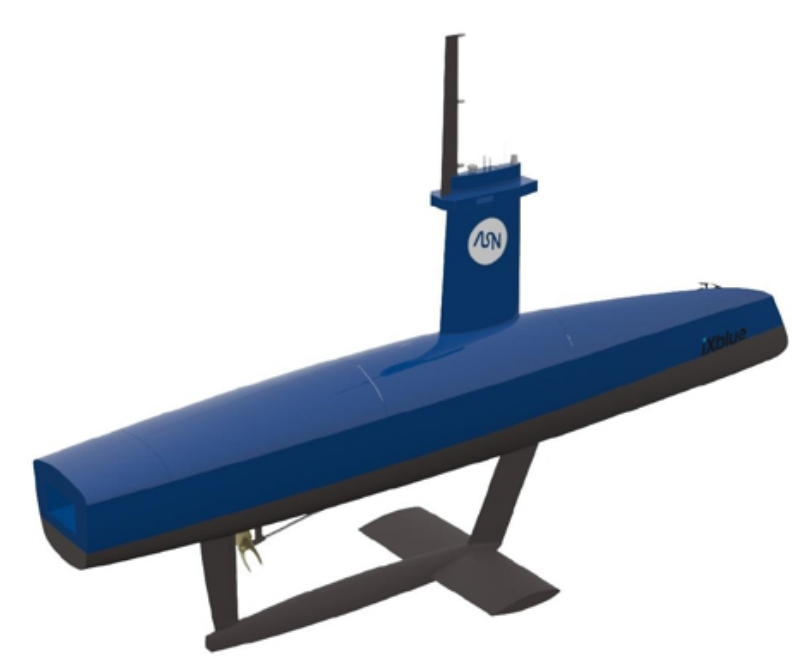 An ecosystem and concrete projects
By combining the expertise of its members, AMSSI will continue to develop an ecosystem capable of meeting major technological challenges and building an effective and relevant community for maritime technologies and services.
Among the developments involving the most advanced technologies of its partners, member companies are already working on an innovative project: the development of a remotely operated hydrographic surface vessel, i.e. a drone capable of carrying out long-distance survey missions.
Other projects related to climate change and marine digitalisation are also being studied.
About Alcatel Submarine Networks (ASN)
Alcatel Submarine Networks, part of Nokia, leads the industry in terms of transmission capacity and installed base with more than 650,000 km of optical submarine systems deployed worldwide, enough to circumnavigate the globe 15 times. From traditional telecom applications to content and "over the top" service provider infrastructures, as well as to offshore oil and gas applications, ASN provides all elements of turnkey global undersea transmission systems, tailored to individual customer's needs. An extensive services portfolio completes its comprehensive offering for the submarine business, including project management, installation and commissioning, along with marine and maintenance operations performed by ASN's wholly owned fleet of cable ships.
Alcatel Submarine Networks – media contact
Guillaume FAUSTEN
communications@asn.com
   www.asn.com                                  @ASN_comm                                                                   asn-comm
About d'iXblue
iXblue is a global high-tech company specializing in the design and manufacturing of advanced marine, autonomy and photonics technologies. Leveraging cutting-edge expertise in the fields of shipbuilding and robotics, iXblue designs autonomous maritime platforms that are increasingly efficient, economical and environmentally friendly. With complete control over its value chain thanks to the vertical integration of its technologies, iXblue also develops innovative systems and solutions for inertial navigation, subsea positioning and subsea imagery. As a leader in its field, iXblue actively participates in consortiums aiming to rethink the future of the maritime industry and to create an industry of excellence for maritime autonomy.
iXblue – media contact
Marion SEYVE
marion.seyve@ixblue.com
   www.ixblue.com                            twitter.com/ixblue                      linkedin.com/company/ixblue
About SeaOwl
Seaowl is a marine services operator since 2008, assisting energy and sovereignty players in their maritime operations around the world. Integrated at the heart of operational processes and focused on innovation, Seaowl supports its clients in their digital transformation and energy transition.
Seaowl is the first operator to offer maritime services based on marine drones, complying with all regulations.
SeaOwl – media contact
Tatjana CUCHEROUSSET
tatjana.cucherousset@seaowlgroup.com